주한미군, 韓美특수부대 북파보도 전면 부인(종합)
2012/05/29
(서울.워싱턴 AFP=연합뉴스) 미군은 28일(현지시간) 미국과 한국의 특수부대가 북한의 지하 군사시설에 대한 정보수집 등 '특별 정찰' 임무를 띠고 낙하산을 이용, 북한에 잠입했다는 '더 디플로맷' 보도와 관련해 "잘못 인용된 내용"이라며 전면 부인했다.
주한미군 대변인 조너선 위딩턴 대령은 "닐 톨리 주한미군 특전사령관이 미국 플로리다에서 지난주 가진 회의후 기자회견을 소개한 일부 보도내용은 완전히 문맥을 벗어난 내용이며, 인용문 자체가 조작된 것"이라고 보도내용을 강하게 부인했다.
그는 또 "특수작전병력(SOF·special operation forces)의 핵심임무가 특별 정찰활동인 것은 사실이나 한미 특전사가 특별 정찰을 위해 북한으로 밀파된 적이 없다"고 강조했다.
주한미군사령부도 '입장문'을 통해 "톨리 준장이 최근 미 전국 특전사 회의에서 패널 토의에 참가한 적은 있다"면서도 "몇몇 언론매체가 그가 말한 것과는 완전히 다른 내용으로 제멋대로 인용해 보도했다"고 밝혔다.
미 사령부는 또 "어떠한 한미 양국군도 낙하산을 타고 북한에 잡입한 적이 없다"면서 "비록 특수 정찰활동이 특전사의 핵심임무이긴 하지만 특전사가 특수정찰을 위해 북한에 투입된 적은 전혀 없다"고 강조했다.
국방부 관계자도 "1974년 7ㆍ4 남북공동성명 이후 북한에 공작원을 보낸 사실이 없다"면서 "그 이전에도 낙하산을 타고 북한에 침투한 적이 없으며 잘못된 보도"라고 설명했다.
앞서 아시아ㆍ태평양 지역의 이슈를 다루는 미국의 온라인매체 '더 디플로맷'(The Diplomat)은 톨리 사령관의 말을 인용, "북한이 한국전 이후 수천개의 지하터널을 팠고, 터널 구조물 전체가 은닉돼 있어 미국 위성에 잘 포착되지 않는다"면서 "한국군과 미군 특수부대원들에게 특별 정찰활동 임무를 주고 북한으로 보낸 것도 그런 이유"라고 주장했다.
톨리 사령관은 또 "50년이 지났지만 우리는 여전히 북한군 지하시설의 정확한 역량과 규모를 알지 못한다"면서 "다만 확인된 북한의 군사 시설물 중에는 부분적으로 지하로 연결돼 있는 20여개의 비행기 이착륙장과 수천 곳의 포병 진지가 포함돼 있다"고 밝혔다.
그러면서 "북파된 특수부대는 행동을 신속히 하기 위해 경량 센서와 고주파 라디오 등 최소한의 장비를 휴대했고 북한군에 발각될 위험도 최소화했다"면서 "북한이 지난 1950년 한국전 이후 수천 개의 지하터널을 뚫었고, 남북한을 가르는 비무장지대에 최소한 4개의 땅굴이 발견됐지만 정확히 몇 개인지는 알 수 없다"고 덧붙였다.
http://www.yonhapnews.co.kr/international/2012/05/29/
0619000000AKR20120529097700009.HTML?template=2087
---------------
한.미 특전사, 북한 투입한 적 없다(?)
해당 보도에 주한미군사 발끈..전문가 "최소한 거짓 아닐 것"
2012년 05월 29일
하지만 김종대 <디펜스21+> 편집장은 "고공에서 낙하산으로 초경량 장비만 갖고 투입했다고 구체적으로 이야기 한 것"이라며 "사령관의 실언이라고 볼 수없다. 최소한 거짓말은 아닐 것"이라며 한.미 특전사의 북한 내 침투가 사실일 가능성에 무게를 뒀다.
그는 "미군은 고위 장성이 허위사실을 유포할 만한 시스템이 아니다"라며 "장성들의 발언은 정보팀 검토를 거쳐 이뤄진다. 지휘관들이 개인적으로 판단해서 말할 구조가 아니다"라고 설명했다.
그러면서 "(톨리 사령관은) 장소와 시기만 안 밝혔을 뿐이다. 그냥 이러한 침투 방법이 있다는 수준으로 말한 것이 아니라 구체적으로 말한 것이나 다름없다"면서 "발언 배경을 알 수없지만 최소한 사실일 가능성이 있다"고 말했다.
http://www.tongilnews.com/news/articleView.html?idxno=98627
------------------
U.S. Forces Spy on North Korea
By David Axe
May 28, 2012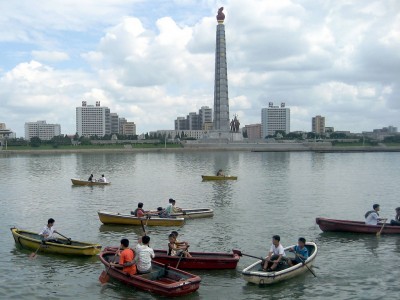 U.S. Special Forces have been parachuting into North Korea to spy on Pyongyang's extensive network of underground military facilities. That surprising disclosure, by a top U.S. commando officer, is a reminder of America's continuing involvement in the "cold war" on the Korean peninsula – and of North Korea's extensive preparations for the conflict turning hot.
In the decades since the end of the Korean War, Pyongyang has constructed thousands of tunnels, Army Brig. Gen. Neil Tolley, commander of U.S. Special Operations Forces in South Korea, said at a conference in Florida last week. Tolley said the tunnels include 20 partially subterranean airfields, thousands of underground artillery positions and at least four tunnels underneath the Demilitarized Zone separating the two Koreas. "We don't know how many we don't know about," Tolley said.
"The entire tunnel infrastructure is hidden from our satellites," Tolley added. "So we send [Republic of Korea] soldiers and U.S. soldiers to the North to do special reconnaissance." Tolley said the commandos parachute in with minimal supplies in order to watch the tunnels without being detected themselves.
Tolley outlined new equipment he said would boost the spies' capabilities without giving them away to North Korean troops. For starters, he said his men could use a lightweight sensorable to "characterize what's in a facility from standoff distance." In addition, the commandos would benefit from a high frequency radio whose signal can't be tracked back to its origin. Finally – and most dramatically – Tolley said a wireless power transmission system would allow his troops to jump into North Korea without heavy loads of batteries for their radios and other gear.
http://the-diplomat.com/flashpoints-blog/2012/05/28/u-s-commandos-
바영법 카페에서....왜 위와 같은 문제를 갑자기 들고 나오는지
어리둥절해 하실분도 아마 있을 것입니다.
그런데 위 문제는....생각처럼 그렇게 간단한 문제가 아닌 것 같습니다.
왜냐면.....위 영문기사 내용을 주한미군 당국이 완전히 부정하며
그것은 잘못 인용된 것이거나 조작된 내용이라고 주장하니
그 원문을 쓴 기자로서는 미치고 팔짝 뛸 지경이 된 것이지요.
그래서 영어원문 기사를 쓴 기자는 현재 미치기 일보 직전인가 봅니다.
그래서 자신이 원래 그 강연에 참가하여 받아 쓴 육필 노트 원본 사진을 공개하고
나아가 그 강연의 전체 원본인 transcript 를 필사적으로 구하여
자신의 결백을 입증해 보이고자 혈안이 되어 있는듯 합니다.
어쨋든, 위 영어원문 기사를 쓴 기자는 현재 아주 당황스런 처지에 몰려
정신적 공황 상태에 빠져 있는가 봅니다.
완전히 문맥을 벗어난 내용이며, 인용문 자체가 조작된 것
주한미군 당국이 위와 같은 발표를 해버리니....
위 영어원문 기사를 쓴 기자가 엉터리 날조 기사를 썼다는 말이 되고 마니
그 기자는 지금 정신적 공황 상태에 빠져 있는 것이지요.
아마도....그 기자의 잘못이 아닐 것입니다.
즉, 그 주한미군 특수전 사령관이 결코 거짓말을 했을 리가 없고
실제로.....아마도 그런 내용을 발언했을 것으로 추측되는데...
그래서 그 기자는 그런 내용을 기사화 한 것인데....
문제는....그것이 공식화 될 경우.....국제정치적으로 심각한 문제가
된다는 점이지요. 왜냐면 그 상대가 미국에게 매우 무서운 북한이기 때문입니다.
즉, 그 기자가 고민하고 있는 것도 바로.....자신의 기사 때문에
북미간 전쟁이라도 발발되는 날이면 도대체 어떻게 되느냐 하는 점입니다.
그러니 주한미군 당국으로서는 신속하게 그 내용을 부정할 수 밖에
없는 것이겠지요.
하여튼....우리는 그런 따위 시시콜콜한 문제에는 관심이 없고
그저 영문법적 내용들에만 관심이 있으니...그 부분만 살펴 보기로 하지요.
아래 글은.....아마도 위 영어원문 기사를 쓴 기자의
개인 블로그인 모양입니다.
Context of the Korea Special Forces Story
28.05.12
by DAVID AXE
Some folks have accused me of "fabricating" quotations I attributed to Army Brig. Gen. Neil Tolley regarding U.S. surveillance operations in North Korea. See the original story here … and skepticism here and here.
The context was a panel featuring theater Special Operations Forces commanders at the SOFIC conference in Florida the week of May 21. Tolley spoke on the record to an audience of hundreds of industry, government and media representatives.
If he was speaking hypothetically, he did not say so. He spoke in the present tense (현재 시제로 말했다)… and at length. (Probably five minutes or so.)
Update #1: Oops. Actually, don't take Paul McLeary at Defense News as corroboration. He has a different spin on the story. And besides, I forgot that he and I used some of the same notes — my notes. But my notes have Tolley saying what I attribute to him in the story.
Look people, Korea's not my usual beat.(전공 분야) Far from it. I don't always know what's news and what isn't in Korea. But I was in the room at the conference. I took notes. There were many hundreds of witnesses — and cameras, too, I think.
Update #2: People are telling me that surely Tolley was speaking hypothetically.(가정법적으로) If so, he did not specify.(구체적으로 그것을 명시하지 않았다) Or if he did, I did not hear him.(물론, 내가 그것을 못들었을 수도 있다) I heard him describing the technical challenges of conducting human surveillance in North Korea. He described the problem, and his solution to the problem, and the challenges incumbent in the solution. Sounded pretty concrete to me.
Update #3: Comment from U.S. Forces Korea:(아래 내용)
Brig. Gen. Tolley recently participated in a theater special operations command commander panel discussion at a Special Operations Forces industry conference. Some reporting has taken great liberal license with his comments and taken him completely out of context. Quotes have been made up and attributed to him. No U.S. or ROK forces have parachuted into North Korea. Though special reconnaissance is a core special operations force mission, at no time have SOF forces been sent to the north to conduct special reconnaissance. The use of tunnels in North Korea is well documented. Several of the known tunnels along the DMZ are visited by tourists every day.



Update #4: Frankly, I'm relieved to hear the military say we're NOT sending troops into North Korea. Some observers wonder how I could ever believe that we HAD — after all, that would be an act of war. Yes, but we routinely strike military and terror targets in foreign countries in ways that could be construed as acts of war. Pakistan, anyone? Korea watchers are SHOCKED at Tolley's comments,(한반도 관계자들은 톨리 장군의 발언 내용에 충격을 먹었다. 왜냐면 그것은 한반도 전쟁을 발발시킬 수도 있는 등 엄청난 문제를 야기할 수도 있는 발언이었기 때문이다) whatever the general's true meaning was. I guess I wasn't as shocked because I'm accustomed to creeping American warfare.
By the way, I'm beginning to realize what a big deal this all is.(암튼, 나로서는 이제 이 문제가 얼마나 엄청난 문제인지를 비로소 이해하기 시작하고 있다) Wish I'd realized that earlier.(그걸 진즉에 내가 알았더라면 좋았을 것을....이미 늦었다) But all that doesn't change what Tolley said, according to my notes.(어쨌든, 톨리 장군이 말한 내용은 변하지 않는다. 적어도 내가 필기한 노트에 따르면 말이다.)
Update #5: I got to say, I'm hating this. I honestly had no idea this tiny little story would be such a big deal.(솔직히 말해서, 이 조그만 기사가 이렇게 엄청난 문제가 될 줄은 나 자신 미처 상상도 하지 못했다.) Yes, the news was "surprising" to me. But a lot of news is a surprise to me … that's why it's news.
Update #6: I really hope someone has a transcript of this panel. Are my handwritten notes inaccurate? (누군가 그 세미나의 원본을 가지고 있기를 정말로 바란다. 내가 필기한 노트 내용이 부정확하다는 말인가?) Was the general vague in his comments? A third-party written record will help clear this up. Anyone?
Update #7: So I'm attaching photos of my notes. Hard to read, I know. And yes, I could FAKE notes. So I realize these won't necessarily convince anyone who thinks I'm a North Korean agent trying to incite a war. For what it's worth …
Update #8: Any other reporters who want clarity on this chain of reporting, contact me at david_axe-at-hotmail.com. I'm in U.S. eastern time.
Update #9: Can I reiterate please how much I'm hating this? I've been shot at and blown up and even kidnapped without feeling as crappy as I do about this. I'm in this weird vortex where so many people are telling me I could not possibly have heard what I said I heard that part of me is beginning to believe them. I keep re-reading my notes, as though looking for something new. I'm a reliable note-taker and a fairly seasoned reporter (I think) but I can only write down what I hear and what I understand. Did I really screw something up here? Am I being snowed by a general who said something he shouldn't have and now fears for his career? Is it all a misunderstanding? I have no idea any more. I just have these two sheets of paper in my hand … and a lot of people telling me I'm about to start a war.
Update #10: I've emailed the conference organizers asking for a transcript. Hoping they have one … and can clarify what's happening here. I've spoken to several reporters tonight who are trying to suss out the truth. It's been a long sleepless night — and it's not nearly over.
Update #11: The kicker? My power is mostly out at home, so I'm trying to manage this crisis in, ahem, less than optimal conditions. This sucks.
Update #12: Talking to U.S. Forces Korea, trying to get SPECIFIC remarks from them regarding exactly what quotations I "made up."(내가 뭘 날조했다는 말인지) Several hours into this hoopla, I'm actually starting to get mad.(나 정말 미칠 지경이다.) I was in the room when the general spoke. I took notes, for crying out loud. I discussed the general's comments with other people after the fact. I'm not perfect.But I'm also not crazy.
Update #13: National Defense Magazine was in the room — and published their story a week before my own. Their wording makes Tolley's comments seem hypothetical, I think.
Update #14: Still waiting on U.S. Forces Korea to call back. My sense at this point is that Tolley found himself saying more than he really wanted to, but can claim he was only speaking hypothetically. Allow me to be clear: if he was speaking hypothetically, it was not at all clear from his comments.
Also, it's not clear to me he knew there were reporters in the room. I was fully accredited for the conference and wearing a bright orange badge identifying me as press. (There were at least a dozen reporters at the event at any one time.) The orange badge granted me access to some speeches and activities, but not others. Before Tolley's speech, I was actually turned away from the auditorium by a guard who insisted press were not allowed. I checked with event organizers. They said press were allowed, and escorted me back into the room. Did Tolley know there were reporters in the room? I'll ask once USFK calls me back.
Update #15: Okay, I think it boils down to these words: "We have to put humans there."(Both my notes and National Defense's story include this quotation.) When Tolley said this, was he saying we might have to put humans there in North Korea, or we already are? I understood him to mean we already are. He apparently claims otherwise.
Update #16: I spoke to USFK Col. Jonathan Withington. "I don't have his transcript in front of me," Withington said. "The important thing is at no time have Special Operations Forces gone north into North Korea."
I told The Diplomat I will step down as a regular contributor. I want to spare them any additional damage. But let me be clear: Tolley did not state that he was speaking hypothetically. And he described in detail his need (either at present or eventually, conditionally — he did not specify) to "leap" forces north with ever-lighter and better equipment. I'm told that represents a present or potential violation of the Koreas' armistice. Which, apparently, USFK takes very seriously … though Pyongyang does not.
http://www.warisboring.com/2012/05/28/context-of-the-korea-special-forces-story/
세상에서....진실이 언제나 승리하는 것은 아니지요.
임금님 귀는 당나귀 귀....
세상사에서....또는 역사에서 진실이 언제나 승리해왔다고 믿는 사람이 있다면
그는 아마도 바보일 것입니다.
적어도 내가 아는 한....유감스럽게도 진실이 언제나 승리해온 것은
아니라는 사실.
만일 진실이 언제나 승리하는 것이 역사라면...이 땅에는 현재
친일매국노들과 그 후예 세력들이 남아 있어서는 안될 것인데...
그러나 유감스럽게도 친일매국노들과 그 후예세력들이
아직도 떵떵거리며 잘만 살고 있지요.
그들이 단지 지네들만 잘살고 만다면....그것으로 이미 충분할 것인데
문제는...그들이 여전히 이 땅에 똥칠을 해대고 있다는 점이지요.
그래서 많은 사람들이 친일매국노 척결을 부르짖는 것입니다.
우리는 사극 드라마들을 흔히 즐겨 봅니다.
우리가 재미로 보는 사극 드라마들에서 조차도
진실들은 대개 승리하지 못하고 도리어 핍박을 받고
역사의 뒤안길에 묻히기 일쑤이지요.
마찬가지로......
아마 위 영문기사를 쓴 기자는....아마도 틀림없이
자기 귀로 똑똑히 들은 내용들을 기사화 했을 것입니다.
그런데 문제는...그 기자 보다 훨씬 더 엄청난 권력을 가진 집단인
주한미군 당국에서 그 기사를 날조라고 부인하고 나섰으니
미약한 힘 밖에 없는 그 개인 기자로서는 그에 대항할 힘이 없을 것입니다.
그러니 미치고 팔짝 뛸 지경이 되겠지요.
그와 같은 상황들이 위 영문들에 구구절절히 나타나 있습니다.
여러분들에게도 그것이 느껴지나요?
http://cafe.daum.net/babo-edu/hNNW/26
아래 영문법 책은 본 블로거가 직접 쓴
저서(전자책)입니다. 일독을 권합니다.